506-839-2156 sherwoods@reidsherwood.com Norton NB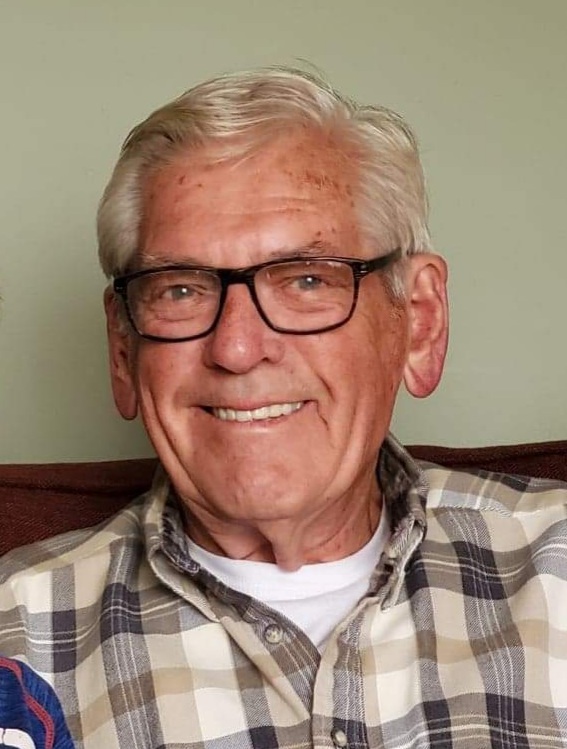 Obituary of Hazen Elmer Myers
It is with great sadness that the family of Hazen "Hank" Elmer Myers announce his passing which occurred on Monday, May 24, 2021 at his home in Apohaqui, NB surrounded by family. He was 86 years of age. Born in Norton, NB he was the son of the late Elmer and Elva (Parks) Myers.
Hank is survived by his children: Cynthia Hopper (Trent) of Hunter River, PE, Candace Myers (Brian) of Winnipeg, MB, Dale Myers of Cambridge-Narrows, NB, and Linda Myers of Sussex, NB; mother of his children, Joyce Myers (nee Culligan) of Sussex NB; grandchildren: Sam Myers of Sussex, NB, and Shawn Gillan (Rob) of Halifax, NS; great grandson James Gillan; sister, Maxine of Nepean ON; and niece Carlotta Flegel of Bowser, BC. In addition to his parents, Hank was predeceased by his brother, William Myers; sister, Emma Summers; and son-in-law, John Topshee.
Hank grew up in the Village of Norton NB, the second youngest of four children of Elmer and Elva Myers. He contracted polio as young child; this had a profound effect on Hank's life. He spent weeks in an iron lung. Significant medical expenses necessitated that his father seek work away from Norton at the Saint John DryDocks to pay the hospital bill. His mother exercised and massaged his legs daily, long before the importance of mobilizing paralyzed limbs was known. During this time, he became an avid reader and learned to draw. When he started to recover movement in his legs, some men in the village made a bicycle for him that he could pedal with his hands. When he eventually regained the use of his legs, he was eager to participate in sports, including skating, playing hockey, swimming and boxing. One day he would go on to box recreationally at a club In Hamilton and even sparred once with George Chuvalo. (It didn't last long).
He was educated at Norton and Sussex public schools and made lifelong friendships with school mates. Inspired by his older brother, Bill's military service, Hank left school, to join to army when he was 14. He was returned home when he became seriously ill and the military learned his true age. At the age of 16, he left Norton to seek work in Hamilton, Ontario where his brother, Bill and sister, Emma then lived. He eventually gained work at the Steel Company of Canada (Stelco) in Hamilton, and began a 20-year career, initially working in a union position at the mill. He took night classes in Industrial Chemistry and Industrial Management at the Hamilton Institute of Technology while working full-time at Stelco, and eventually moved to a management position.
He met many fellow Maritimers and made lasting friendships in Ontario, and soon met and fell in love with a fellow New Brunswicker, Joyce Culligan. They married and went on to raise four children…Though he loved his work at Stelco, Hank missed seeing his family and seeing his children grow up, and made the decision with Joyce to move "back home" to New Brunswick. They bought a family grocery business in Sussex, NB which prospered through their hard work.
Hank became involved in municipal politics and was elected to Sussex Town Council in 1977, which was the beginning of a long political career. He served in the Legislative Assembly of New Brunswick from 1978 to 1987 and from 1991 to 1995, as a Progressive Conservative member for the constituency of Kings East. He became Minister of Agriculture in 1985. After an election defeat, he served as an aide to a Member of Parliament, member of the Parole Board of Canada and Chair of Farm Products Commission. Once he retired from active work life, he dedicated significant time to the development and volunteer operations of the Agricultural Museum of New Brunswick and in his 80's was a volunteer literacy tutor.
He was a man of many interests and pastimes. He was a voracious reader of fiction and non-fiction his entire life, a joy he shared with all his children. He was an ardent supporter of public libraries and served on the Library Board. He was self-taught in many endeavors but valued the mentorship and instruction of others, learning and developing many skills (wood working, furniture building, wood carving, painting, calligraphy, wine-making, and learning to play the guitar, harmonica and fiddle). Largely on his own, he built two family cottages where he was constantly occupied with construction, landscaping, gardening, and hunting. At the end of a hard day he enjoyed nothing more than sitting on the deck with a rum and coke (or two) with family or friends. After maintaining the cottage became onerous, he enjoyed staying in his RV at his daughter's campground in PEI. Despite health challenges in his later years (late effects of polio, arthritis, heart surgery, back surgery, lung surgery) he rarely complained, remained independent, and continued to enjoy old pastimes (woodworking, gardening), and discover new ones (painting, making his annual crabapple raspberry jelly and distributing it to friends and neighbours). He loved the southern NB countryside, bird feeding, chocolate covered cherries, steak, good food, country music, British murder mysteries, and keeping in touch by phone or email with old friends and colleagues.
His connection to the Village of Norton grew even stronger as time went on. He grew up and attended school there, as did his grandson, and he was immensely proud that his daughter, Linda became a teacher and eventually principal at Norton Elementary School. He occasionally did talks to school children about government, or about what life was like "in the olden days". He wrote letters to elementary school children as part of a project to encourage literacy and delighted in the letters and cards they sent in return. He faithfully and happily attended the Norton Elementary School Christmas Concert every year.
Hank held a strong faith throughout his life. As a child, his mother ensured he attended Sunday school at both the United Church, which was built by his grandfather, and the Baptist church to "keep him out of mischief". He was a member of Norton Baptist Church and greatly enjoyed the fellowship of the congregation.
No matter where he lived or worked, or in what stage of life, he developed friendships and bonds. He was privileged to have had wonderful neighbours, political and work colleagues, and friends of every age and walk of life. He loved to entertain and tell stories and jokes. When his grandson, Sam became involved in speed skating, Hank became his biggest fan, attending his practices and competitions, getting to know the other skaters and their families and cheering them on as well. He managed to go more than one entire season without missing an event, despite weather and increasing challenges with pain and mobility.
Family was important to Hank. He was particularly close to his Uncle Hazen Parks (Uncle Bush), his sister Emma and brother-in-law Perry. His aunts, uncles and cousins were important to him throughout his life. He had a remarkably close bond with each of his children and grandchildren, who were proud to consider him their friend. He passed away at home surrounded by the love of his family. He died on his own terms, much the way he lived his remarkable life. He left us all with the gift of strength, courage, and a strong work ethic, and the knowledge that almost everything in life is improved with love, laughs, a good story and a stiff drink. We will deeply miss his friendship, wisdom/advice, guidance and hugs.
Hank's family is grateful for and wishes to express heartfelt thanks for the expert care and kind support of Extra Mural Nursing team, medical staff at 5A South (Saint John Regional Hospital), and medical team at the Sussex Regional Hospital.
Arrangements have been entrusted to Sherwood's Funeral Home and Life Tribute Center (506-839-2156), 18 Scovil Road, Norton, NB. Due to COVID-19 restrictions, private services will be held at a later date. A video of Hank's funeral service will be available from this obituary shortly after the service.
In lieu of flowers, donations in memory of Hazen Myers may be made to the Norton Baptist Church, the Norton Recreation Council, the Salvation Army or to a charity of the donor's choice. Personal condolences to the family, and charitable donations, may be made through: www.sherwoodsfuneralhome.com
Share Your Memory of
Hazen