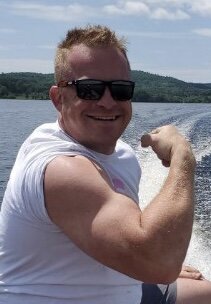 Obituary of Barry David Reicker
It is with great sadness that the family of Barry David Reicker announce his sudden passing which occurred on Saturday, June 17, 2023. Born in Calgary, AB, on December 16, 1981, he was the son of Roxanne Black the late David Reicker.
Barry is survived by his loving partner Jenny Stewart; son Franklin and his mom Tallis Clarke; brothers Mitchell and Shaun; mom Roxanne Black (Russell Patterson); step dad Bob Black (Ginette Black); as well several nieces, nephews, extended family and friends.
Barry was a force to be reckoned with. Large and in charge. He moved around the world with a magnetic pull that changed everything around him. Some were pulled to him, others backed off but if you were lucky enough to feel at-home in his aura, his energy and love for his friends, his family, and so many people in desperate need of support, would leave you in awe and make a person reevaluate how much love was possible. He is the first person to call when you need help. He is the first person to call when you're in trouble. He is the first person to call when you're just wondering how to spend a free weekend. He always delivers. He dropped everything without question and without hesitation to help a friend in need. He offered up his home on multiple occasions in Fredericton, in Calgary, in Belleisle, to people who desperately needed a hand, gave them food and shelter and stood them up straight to face the world again. He was the king of the campfire, the master of ceremony, benevolent host and tour guide to any and all. Up to his elbows in grease with five projects on the go, no training just pure confidence that he'll figure it out. Online he was known as The Pincer, IT support in the fortress of solitude, server host and admin of the Pincer's Lair, another home he built for his friends online. He was a perch dad, rock boy, the fish whisperer, and net boy extraordinaire who spent more time fixing motors than running them and never met a knot he couldn't untangle. Most of all he was a loving father to Frankie his pride and joy and who is his spitting image, and faithful son to Roxie and Bob. His spirit lives on in the people he touched, he will be missed dearly and never forgotten.
He always accepted a person as they were, and you knew he cared deeply with his big Barry heart and hugs. I will miss his mischievous high energy, his ability to make me question if I am smart at all, and his I'm going to do what I want attitude.
Barry was the kind of guy that you'd remember after meeting just once. He was electric; a smart, clever guy that exuded confidence and charm. Showing love and care for his people is something that Barry did well, which is why he has the reputation of being one of those people that you can call on in a pinch. Someone who, no matter how many years go by, you pick up right where you left off. It's a damn good thing Barry was so wild, fearless and adventurous during his too-short life, because he's left us all with a lifetime and more of memories and stories to tell about him.

A guy that could spend just a weekend with you and you would remember the interaction forever.
Like everything, Barry was so dedicated to being a great dad. He was an awesome man to my children, always made them laugh and have a good time.

You were the most incredible person, every single room you walked into, you owned it with your great big personality and booming laugh. He called bullshit when he saw it. He caused bullshit when he wanted it, haha.

You were a legend in so many ways brother. You lived more in half a lifetime than most would in 3. Truly the best friend a man could ask for. Funny, smart, selfless, and always up for an adventure. Barry was the type of guy who'd break a bone helping you with a project one weekend, and show up the next in a cast ready for more. Always wore his heart on his sleeve, would build you up when you needed it and call you out on your bs. Captain Bee Reel as we called him in our little fishing dad support group. He started that too, and the love, support and comradery we can get whenever we need it has gotten us all through some tough times.

I'm sure you're popping wheelies somewhere on the other side!
Smart, selfless, kind, an amazing father and the funniest, wittiest guy I knew.

Hope your carving up some double black diamonds in your one piece fart bag my friend. Barry, you treated my son like he was your own.

Barry was a dependable and supportive brother.
Arrangements have been entrusted to Sherwood's Funeral Home and Life Tribute Centre (839-2156) 18 Scovil Road, Norton, NB where visitation will be held on Friday, June 23, 2023, from 2 to 4 & 6 to 8PM. The funeral service will be held on Saturday, June 24, 2023 at 10:00AM from Sherwood's Funeral Home, Norton, NB. Interment will take place at Erbs Cove Baptist Cemetery, Erbs Cove, NB.
Donations in memory of Barry may be made to Franklin's education fund or to the charity of the donor's choice. Condolences to the family and donations may be made through SherwoodsFuneralHome.com