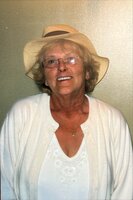 Linda Berniece Stockford
Linda Berniece Stockford of down town Wickham passed away on Saturday, January 21, 2023, at the Dr. V. A. Snow Centre, Hampton, NB. Born in Coal Creek, NB, on June 25, 1947, she was the daughter of the late Roy and Mildred (Barton) Weaver.
Linda is survived by her daughter Susan Stockford (Wayne Parks) of Salt Springs, NB; sons: James (Sandra) Stockford of Saint John, NB, Brian (Wendy) Stockford of McDonald's Point, NB; grandchildren: Natalie Parks (Hunter Kirkpatrick), Kristie Parks (Mackenzie Tucker), Scott Stockford, Michael Stockford (Marjorie LaFrance); sisters: Elanor (Leonard) Barton, Rita (Brian) Hasson, Margaret Thomson; brothers: Charles (Betty Ann) Weaver, Gordon (Yolanda) Weaver; great-grandchildren: Violet, Elsie; as well as several nieces and nephews. In addition to her parents, Linda was predeceased by her loving husband George Stockford; sons: Michael and Bruce.
Arrangements have been entrusted to Sherwood's Funeral Home and Life Tribute Center (506-839-2156) 18 Scovil Road, Norton, NB, from where visitation will be held on Tuesday, January 24, 2023 from 4 to 8. The funeral service will take place on Wednesday, January 25, at 11:00 AM from Outreach Pentecostal Church, Hatfield Point. Interment will take place at Wickham Cemetery, Wickham, NB.
Donations in memory of Linda may be made to the Alzheimer's Society or to the charity of the donor's choice. Personal condolences to the family and memorial donations may be made through SherwoodsFuneralHome.com