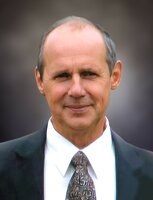 David Oliver Cripps
With deep sorrow, yet with great rejoicing, we announce the death of our beloved one, David Oliver Cripps. Sorrow, because we will miss him so very much; rejoicing, because he has "Gone Home" to the very place that in the past few weeks he has prayed and longed for.
"To be absent from the body and to be present with The Lord" – 2 Corinthians 5:8
David's death occurred at his home in Avonmore, on December 9, 2022. He was born on January 8, 1950, the fourth son to Murray "Tim" and Catherine (Piers) Cripps.
David was the loving husband of Connie (nee Huggard) for 48 years. They were blessed with two wonderful sons: Josiah Cripps of Fredericton, NB, and Jordan (Erica) Cripps of Norton, NB. Double blessings came with the birth of two precious grandsons: Tobias Oliver and Elliott James Cripps. They were indeed the "light of his life". On December 1, just days before David's passing, another little blessing arrived. On Sunday December 4, Miriam Alice, his sweet little granddaughter was placed into his arms. He gazed upon her with love and adoration.
David is also survived by his brothers: Roy of Fredericton, NB, and Stephen (Debra) of Apohoqui; sisters: Janet Rupert of Sussex, NB, and Judy Lavigne (Brian) also of Sussex; mother-in-law Annabelle (Williams) Huggard Lockhart of Picadilly, NB; brothers-in-law: Neil Huggard of Florida, USA, Tony Huggard of Fleming, SK, and Terry Huggard (Lori) of Fleming, SK and Collina, NB; sisters-in-law: Sharon Huggard Kelly (Dave) of Miramachi, NB, Jackie Huggard (Wayne) of PEI, Nicole Lockhart of ON, Lorraine Huggard of Belleisle, NB, and Annabelle Cripps of Kierstead Mountain, NB; first cousins: Nancy Duffy (Bruce), Jane Gould, John Carroll (Kathy), Stafford Cripps, Danny Cripps, Charlotte Raven and Cindy Urquhart; along with several dear nieces and nephews. David is also survived by Joe Brown, a very special friend, who David thought upon as a son.
In addition to his parents, David was predeceased by his father-in-law, Eric Huggard; brothers: Richard Cripps, Harold Cripps and his wife Brenda, and Trevor Cripps; and brothers-in-law, Billy Huggard and Doug Rupert.
As a young boy David developed a strong work ethic, as he worked for citizens of the village. Mr. Truman "Sarge" Gamblin, a First World War vet, was one of his customers who became a wonderful father figure to him. That work ethic carried through his entire life. He, for many years, was a self-employed plumbing and heating contractor. He loved his work, especially enjoying the opportunity to meet many interesting people, some of whom became dear friends.
We would like to extend a special thank you to Dr. Dianne Stackhouse for her professional and compassionate care. She is a true blessing. Carrie and Rose, you are wonderful extra-mural nurses and were a true gift to us. Karen, in David's eyes, was a hero for providing an overhead triangle which enabled him to lift himself. Thank you Wendy for helping Karen set it up. Dr. Paul Vanhoutte and Dr. Stephen Allaby left a great impression on David while attending to him on a visit to the ER. He was also impressed with the nurses who were so caring and competent. Thank you also to Crystal and Jackie, nurses in the IV day clinic, whom David held in very high esteem.
Finally, a heartfelt thank you to the many who came faithfully, and sat at David's bedside over the past two month. David enjoyed every visit and conversation and was blessed by each and every one of you.
David was a wonderful husband, dad & grampie and made every provision for our needs. He was a man of faith, a student of God's word, and had a passion to share what he learned with others. He enjoyed bus tours, excursions with his family and friends, kayaking and canoeing, and taking in all of God's creation. David and Connie had a grand time antiquing over the years and most recently, David's precious grand children occupied a goodly amount of his interest and time. We look forward to meeting him again one day. "What a day of rejoicing that will be!"
Arrangements have been entrusted to Sherwood's Funeral Home (18 Scovil Road, Norton, NB) where a public visitation will be held on Wednesday, December 14, 2022, from 2:00 to 4:00 PM and 6:00 to 8:00 PM. David's funeral service will take place from Faith Bible Baptist Fellowship (33 Pine Street Sussex, NB) on Thursday, December 15, 2022, at 11:00 AM. A reception and private interment will immediately follow the funeral service.
If you are considering placing a memorial, please consider a cause that would aid those in need such as The Salvation Army, Romero House, Faith Bible Baptist Fellowship, Hampton Bible Camp, or a charity of your choice.