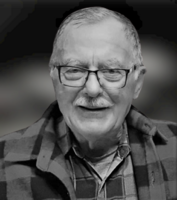 Peter Benjamin Reid
It is with great sadness that the family of Peter Benjamin Reid announce his passing on Friday, November 25, 2022, at the Sussex Health Centre, Sussex, New Brunswick, with his family by his side. Born in Norton, NB, on June 9, 1933, he was a son of the late Ivan and Gladys (Allaby) Reid.
Peter is survived by his loving wife, Lillas (Yeo) Reid of Norton; children: Gregory Reid (Anne Marie) of Halifax, NS, Katherine Gish (Philip Kemp) of Sussex, Barry Reid (Jane) of Kentville, NS, Heather Crothers (Perry-deceased) of Sussex, and Wendy Palmer (Bill) of Norton; grandchildren: Jenna, Cole, Ryan, Jasmine, Scott, Kimberly, and Christopher; brothers: Ian Reid (Betty), and William Reid; and sisters: Muriel Tucker, Susan Sharpe, and Alberta Jamer (Murray); along with several extended family.
In addition to his parents, Peter was predeceased by his brothers: Edwin, James, and Robert Reid; sisters: Margaret McKenna, Elizabeth Brown, Nancy Waters, and Mary Hazel Reid (deceased at age 6); and stepmother, Maude Reid.
Peter was a Norton Boy for most of his life, other than a few adventures elsewhere. His community meant everything to him; he was deeply devoted and rooted here. He was appreciative, humble, welcoming, witty, and smart and generous in every sense of the word.
Peter was many things: a devoted husband, father, grandfather, and a wonderful friend. An avid reader, a canny cribbage player, an outdoorsman, a keen historian of Kings County, an uncanny ability to fix almost anything which was broken and finally, he could cook a turkey like no one else.
Peter had many accomplishments which include Norton's first elected Mayor, Norton Volunteer Fire Dept., President of the Progressive Conservative Party for Kings Center, President Riverbank Cemetery (President 1984-2022 Director 1973-1984), Masonic Lodge Member, Kings County Historical Society, Norton Baptist Church and served in many other volunteer capacities
Peter lived a long, happy, and exemplary life and he wanted to say that he always took time to enjoy the sunrise and the sunset every single day. He will reside in our hearts with love.
Arrangements have been entrusted to Sherwood's Funeral Home and Life Tribute Centre (839-2156) 18 Scovil Road, Norton, NB, where a public visitation will take place on Sunday, November 27, 2022, from 4:00 to 8:00 PM. A private graveside service will be held at Riverbank Cemetery, Riverbank, NB, at a later date. In lieu of flowers please consider a donation to Norton Baptist Church, Riverbank Cemetery, or to the charity of the donor's choice. Condolences to the family and donations may be made through SherwoodsFuneralHome.com