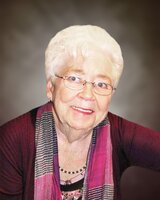 Margaret Gertrude Smith
Last month the world lost their Queen, Elizabeth II. This month we lost ours, so it is with sad hearts that we say goodbye to her.
Margaret Gertrude (Dann) Smith passed on Tuesday, October 18th, 2022, at the Kiwanis Nursing Home in Sussex, NB. She was born in Hampton, NB, on April 7th, 1930, daughter of the late William and Gladys (Doherty) Dann.
There is not just one word that describes Mom. She was many faces: wife, mother, daughter, sister, grandmother, great-grandmother, great-great grandmother, aunt, and friend. Her life was not without hardship, but she was a strong woman, unafraid and proud. Mom was a constant presence in our lives, without whom we would not have become who we are all today. She gave us the best gift of all - each other. The "The ten Smith kids" and we are thankful for that.
Mom lived quietly and without fan fare for ninety-two years. She was beautiful, intelligent, funny and oh so very stubborn. A true lady - classy in every sense of the word. She loved sitting in her chair, legs curled up under her doing her crosswords, reading the paper, her Royal magazines and watching the birds on her deck. Her biggest passion in life was her avid love of reading which enabled her to travel extensively to so many places around the world from home. There was also her love of all things royal, having her hair and nails done, listening to music, drinking a hot tea, and most recently attending a Gary Morris country music performance at the Kiwanis Nursing Home on Thanksgiving Day.
She loved her weekly trips to Sussex - stopping for lunch at one of the restaurants in town to have her favorite meal of fish and chips and then continuing on to visit shops and fill her cart with many, many sweets, which she claimed to have only bought for company.
Earlier in her life, she did get the opportunity to travel across the ocean to Germany and surrounding countries, and also south of the border to the sunny shores of Florida. Later in her life she travelled around the Maritimes on bus tours that she enjoyed immensely.
Just like many of her well-loved novels, her story comes to a close. Although this is Moms' final chapter, she continues to live on in our hearts and minds. We love you Mom, and we will miss you. Enjoy your high tea with Lilibet, Mom!
Margaret is survived by her adoring children: Betty Paynter of Stratford, ON, Bill Smith (Betty Lou) of Belleisle Creek, NB, Eleanor Shepherd of Hampton, Patty Totton (Chris) of Saint John, NB, Phyllis Fisher (Ivan) of Moncton, NB, Donna Nash (Brian) of Fredericton, NB, Kathleen Smith (Bruce) of Sussex, Lloyd Smith (Heather) of Hampton, and May Wells (Todd) of Kingston, NB. Margaret is also survived by her grandchildren: Andy, Julie, Shyann, Matt, Melissa, Craig, Betty, Kelly, Donnie, Karen, Dave, Michelle, Chelsea, Kevin, Jamie, Jake, Jennifer, Warren, Kathleen, Martin, Matthias, Max, Kayla, Ashley, Nicole, and Emma; great-grandchildren: Mira, Sage, Keilan, Gwen, Gabby Lou, Sawyer, Cami, Sarah, R.J., Megan, Alex, Alan, Amelia, Shayne, James, Jared, Meredith, Joseph, Kathryn, Trevor, Jacob, Cory, Alyssa, Elijah, Hunter, Atticus, Kurt, Joli, Elizabeth, Olivia; and great-great-grandchildren: Evelyn, Charles, Jacob, and Caleb; along with nieces, nephews and extended family members.
In addition to her parents, Margaret was predeceased by her husband, Donald Smith; daughter, Cathy Mitton; grandchildren: Charles Smith and Robbie Healey; and sister, Jean Hourihan.
Arrangements have been entrusted to Sherwood's Funeral Home and Life Tribute Center (506-839-2156), 18 Scovil Road, Norton, NB and will be held privately. Donations in memory of Margaret may be made to S.O.S. Strays of Sussex, or a charity of the donor's choice. Personal condolences to the family and memorial donations may be made through: www.sherwoodsfuneralhome.com