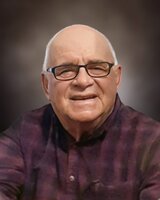 Jim McEwen
It is with the saddest of hearts that we announce the passing of James William McEwen of Salt Springs, NB, on Friday, October 14, 2022, at his home in Salt Springs. Jim was the son of the late Elton and Winnifred (Davidson) McEwen.
Jim is survived by his loving wife of 58 years, Irene (Kennedy); son, Timothy McEwen (Cynthia) of Salt Springs, and daughter, Tammy Shurtleff of Airdrie, Alberta; grandchildren: Joey McEwen (Alycia) of Salt Springs, Denise McEwen (Colin) of Lakeside, NB, Tom Shurtleff of Airdrie, and Ben Shurtleff of Airdrie; and great-grandchildren: Payton, Piper, Aubree, Beau, Sophia, Amelia, Olivia, Layla, and Bennett. Jim is also survived by sisters-in-law: Leona McEwen and Cathy McEwen; brother-in-law, Carlie Smith; and foster brother, Hallie Lohnes; along with several nieces and nephews.
Jim was predeceased by four infant children: Amy, twins Daniel and Samuel, and George Robert; brothers, Paul McEwen, and Howard McEwen; and sister, Myrna Smith. He was also predeceased by his special dog, Amanda, who he loved so much.
When Jim was young he loved to help his father, learning how to move houses, carpentry work, farm, work in the woods, and how to run almost any piece of equipment. In the summer of 1963, there was a young lady that caught his eye and in June of 1964, a lifelong love affair began. Jim and Irene became inseparable, working side by side. From farming to square dances in Smith Creek, to drives in the woods, Jim could sweep Irene off her feet.
Jim loved the woods, even becoming a member of the wood co-op since it started in the late 1970's. He liked farming and one of his favourite places was on his tractor. He and Irene worked tirelessly in their garden and had one of the nicest ones around. Come harvest time, anyone who stopped by left with a bag of vegetables. If these things didn't keep Jim and Irene busy enough, they also had a maple sugar bush, bees for honey, apple trees, and a sawmill.
On his off time, he just wanted to be with the love of his life, Irene, and his family. He also enjoyed chatting with his friends and neighbours. He loved to play solitaire, do find-a-word puzzles, and surf on his computer.
Jim was a man of great faith and was an Elder of the Southfield United Church. He was willing to help anyone that he could. His smile and his laugh could lighten any room he walked into. He will be greatly missed by his family and friends.
Arrangements have been entrusted to Sherwood's Funeral Home (506-839-2156) 18 Scovil Road, Norton, NB, where visitation will take place on Friday, October 21, 2022, from 3:00 to 5:00PM and 6:00 to 8:00PM. A funeral service will be held at Sherwood's Funeral Home on Saturday, October 22, at 1:00PM followed by a reception. An interment will follow at Ocean View Memorial Gardens, Saint John, NB.
Donations in memory of Jim may be made to the Southfield United Church or to a charity of the donor's choice. Personal condolences to the family and donations may be made through: www.sherwoodsfuneralhome.com