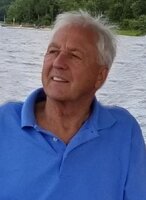 Roy Pope
It's with a mixture of profound sadness and much admiration that we share the passing of our family's loved one. Leaving a legacy of optimism, determination and inspiration when faced with challenges were just a few of Jr's many attributes. Gifted with a kind and gentle nature, a more considerate person we couldn't have wished for at the center of our family.
Living a life he felt blessed to have had, he loved life on the family farm in Belleisle Creek where he grew up with his parents, Roy & Agnes (Jensen) Pope, and his two older brothers. Having worked for NB Power as a Stationary Engineer for a few years, he returned to the farm to pursue the life of a farmer/food processor and eventually raise his own family here. Summers were spent at the camp in Brown's Cove where our growing flock and good friends gathered often to enjoy the water and many, many games of washers. Over the years, we enjoyed our travels but Jr always returned home marveling "we live in the best place in the world". Naturally, having all of our family nearby made it that much better.
Jr believed in building community through involvement in the construction of the school pool, volunteer fire department, Home & School president, minor softball president, coaching female hockey and organizing old-timer hockey. He enjoyed duck hunting, snowmobiling, boating and played hockey until he was 60 years young. Skiing wasn't his favorite pastime but always enjoyed our ski vacations and in recent years skiing with some of the grands. Make no mistake, it was as much about the comradery as the sports themselves. He never retired his skates though. Winter after winter he built rinks to be enjoyed by family and friends and many winter days were filled with skating, sliding and Papa towing the grands up the hill by snowmobile. It was always a race to have ice in time for our family's Boxing Day "Christmas in the Creek".
Jr's absence in our lives will be desperately felt by myself, his wife and best friend of 37 years, and our family: Kris (Catherine, Emmilou & Zachary), Jill Wilson (Andrew, Hannah, Hayden & Holden), Jensen (Kara & Ellie) and Kyle (Katerina). He also leaves behind his dear dad, Roy Pope Sr, brothers Peter & Brenda and Fred & Donna. His extended family whom he thought the world of, Vicky & Dan McLaughlin, Bob & Sue Ness, Lana & Dale Waite, Mary Jane & Trevor McMillan, Tim Ness, a small army of neices, nephews, cousins and good friends. He also thought the world of his father & mother-in-law, Ron & Jean Ness, and missed their presence at our "long table dinners" since their passing.
Jr slipped away peacefully at home after a diagnosis of Myelodysplastic Syndrome. Having been diagnosed with a brain tumor years ago, undergoing numerous surgeries, radiation, treatment and most recently MDS, Jr remained steadfast in his journey to enjoy life and live well
to the end. His acceptance of this diagnosis made it easy for his family and close friends to enjoy his final days with him. We were blessed with caring and compassionate doctors, nurses and medical staff over the years and we are thankful for the wonderful team they are. To all our family and good friends who filled Jr's life with much enjoyment and precious time together, we thank you from the bottom of our hearts.
Please, no flowers, the kids and I will look after those. Instead, please consider donating blood to the Canadian Red Cross. Transfusions became life sustaining for Jr and blood donations are at a 10 year low. Or, perhaps a donation to our local Sussex Extra Mural, Sussex Hospice, SJRH Oncology Department, SJRH Neurology Department or Brain Tumor Foundation of Canada.
Visitation will take place on the lower level of Up to Par Restaurant in Midland on Sunday, October 16th, 2022 from 1- 4 pm. A Celebration of Life will be held privately at a later time.

Gwen & Family