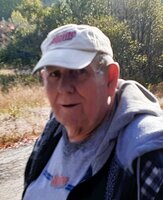 Ray Bernard
It is with great sadness that the family of Raymond Maurice Bernard of Kars, NB, announce his passing which occurred on Friday, September 30, 2022, at the Saint John Regional Hospital, surrounded by his loving family. Born in Saint John, NB, on December 7, 1946, he was a son of the late Tom and Amelia (Elliott) Bernard of Saint John, New Brunswick.
Ray is survived by his loving wife of 52 years, Sally (Saunders) Bernard; sons: Dwayne (Pam) Bernard and Kevin (Heather) Bernard; grandchildren: Brittany, Colton, and Miya Bernard; sisters: Debbie (Rick) Farren, Heather King (Fred Lawton), and Cheryl (Ian) Clark; brothers: Wayne (Charlene) Bernard, and Bryan Bernard; sisters-in-law: Suzie (Stewart) Chestnut, Linda (John) Robertson, and Molly (Chris) Delaney; brothers-in-law: Barry (Donna) Saunders, Mike (Marie) Saunders, Bob (Chris) Saunders, Johnny (Karen) Saunders, and Donald Byers (Yvonne). Ray is also survived by several nieces, nephews, aunts, uncles, cousins, and extended family members.
In addition to his parents, Ray was predeceased by his grandson, Kyle Raymond Thomas Bernard; brother, Jack Bernard; brothers-in-law, Roger King and Art Skanes; and sister-in-law, Ann Byers.
Ray was a loved family man. He enjoyed spending many weekends surrounded by family and friends, if family weren't at their house, they were at someone else's home having a great time. Many Halloweens were spent all decked out in elaborate costumes and partying with loved ones. In the last moments of his life he still needed to make sure he gave his loving wife of 52 years a few kisses. Ray enjoyed being outdoors and using his hands. He would spend much of his spare time hunting, fishing, camping and enjoyed doing so with his boys. Typically if you couldn't find Ray he would be out tinkering around in the yard or the garage. He enjoyed watching NASCAR, if you stopped to visit on a Sunday you knew there would be a race on. He also enjoyed attending concerts with his brother-in-law and niece(s), and was a big fan of country music, especially his Shania Twain. He enjoyed watching the variety of birds that came to perch on the feeders and trees in the front yard. He was an inspiration, mentor and teacher of many skills and overall a wonderful man.
Ray will be greatly missed by everyone who had the pleasure of getting to know him.
The family would like to extend a special thanks to Dr Natalie Graves, Dr. Love and the Palliative Care unit at the Saint Regional Hospital, Extra Mural Sussex, the Belleisle Valley Volunteer Fire Department, and Ambulance NB for their exceptional care and support.
Arrangements have been entrusted to Sherwood's Funeral Home and Life Tribute Center (506-839-2156), 18 Scovil Road, Norton, NB. A Celebration of Ray's Life will take place at the Belleisle Community Centre (1648 NB-124, Springfield, NB) on Saturday, October 15, 2022 from 1:00PM to 5:00PM. A private interment will be held at a later date.
Donations in memory of Raymond Bernard can be made to the Canadian Cancer Society or to the charity of the donor's choice. Personal condolences to the family and donations may be made through: www.sherwoodsfuneralhome.com