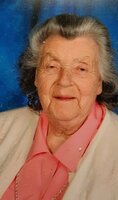 Leatha Louise Mae Jones
It is with great sadness that the family of Leatha Louise Mae Jones announce her passing, which occurred on Thursday, September 29, 2022, at the Carleton-Kirk Lodge Nursing Home, Saint John, NB. Born in Evandale, NB, on May 28, 1924, she was a daughter of the late Harry and Emily (Jones) Vanwart.
Leatha is survived by her cousin, Carole Nurse; special nieces and caregivers: Cathy Bates and Elaine Jones; as well as many other treasured nieces, nephews, and extended family members, and friends. In addition to her parents, Leatha was predeceased by her loving husband George Harry Jones; sister, Betty Vanwart; along with her brothers and sisters-in-law; and her cousin, Phyllis Goodin.
Leatha was famous for making the very best doughnuts, bread, and war cake. She enjoyed going to the Queens County Fair to look at the cows and horses, as well as attending the dances at the Jones Creek Legion. Leatha was very proud of her connection to the Eveleigh Hotel in Evandale and worked there for most of her life. She was an animal lover, especially her favourite cows, Cindy and Mindy. She also loved her dogs even when no one else did. Her family and friends will all miss her great sense of humour, her ability to "go with the flow", and the amazing ways that she found to win at cards.
The family wishes to express their sincere thanks and love to her friends at the Kiwanis Lodge in Grand Bay-Westfield for looking out for her and enabling her to remain independent longer. The family also wants to express their sincere appreciation to the staff and management at Dobbelsteyn Special Care Home, and The Carleton-Kirk Nursing Home, for the care that they gave Leatha. You are angels amongst us.
Arrangements have been entrusted to Sherwood's Funeral Home and Life Tribute Center (506-839-2156), 18 Scovil Road, Norton, NB. A Funeral Service will be held on Thursday, October 6, 2022, at 1:00 PM, from St. Paul's Anglican Church, Oak Point Beach Rd, Oak Point, NB. An interment will immediately follow the service at St. Paul's Anglican Cemetery, Oak Point, NB.
Donations in memory of Leatha may be made to St. Paul's Anglican Cemetery (Oak Point), Saint John Regional Palliative Care Unit, or a charity of the donor's choice. Personal condolences to the family and memorial donations may be made through: www.sherwoodsfuneralhome.com