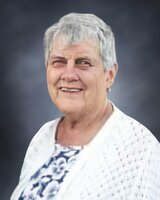 Joyce Eilleen Griffiths
It is with great sadness that the family of Joyce Eilleen Griffiths announce her passing, which occurred on Tuesday, September 27, 2022, at the Kiwanis Nursing Home, Sussex, NB. Born in Smith Creek, NB, on December 20, 1930, she was a daughter of the late Harold and Elizabeth (McAuley) Graves.
Joyce is survived by her daughter, Kim Barton (Rob) of Norton, NB; grandchildren: Candace Sargent (Andrew) of Lethbridge, AB, Mike Barton (Alyssa Belliveau) of Salisbury NB, Tristan (Jessica) Barton of Sussex, Amanda Griffiths (Brent Gionet) of Norton, Stacey Morgan (Tony) of Millstream, NB, and Shelby Griffiths (A.J. Heath) of Sussex. Joyce is also survived by her very special lifelong friend, Edith MacDonald of Fredericton, NB; her 4-legged friend, Roxie; along with many great-grandchildren, nieces, and nephews. In addition to her parents, Joyce was predeceased by her loving husband Frank Griffiths; son, Robbie Griffiths; sisters: Jean Lohnes and Hazel Fleming (Joe); brother, Leslie Graves (Ramona); and brother-in-law, Bob Griffiths.
Joyce is the last surviving member of her family and was a Station Agent's daughter growing up. She started her teaching career in a one room classroom in Kings County, NB, but taught for a year in Berens River, Manitoba. Her original plan was to teach for 2 years in Manitoba, but a surprise engagement ring mailed by the love of her life in New Brunswick was enough to bring her back home early. She married Frank on a beautiful day in 1960, and eventually Robbie and Kim joined the family in 1965 and 1968. In her final years of a 36-year teaching career, Joyce was known for her love of school concerts and special trips at Norton Elementary School.
After retirement Joyce was one of the founding members of the Basement Players, travelling around the area fundraising for multiple charities. She also went on a couple of Missions Trips to Trinidad, supporting local teachers. Her faith was extremely important, regularly attending St. Andrew's United Church in Norton, holding numerous offices, and doing whatever work was needed at the church. She was also actively engaged in the community and even received a Queen's Jubilee Medal for her commitment and volunteerism. Over the last year and a half, she resided at Kiwanis Nursing Home in Sussex, and thanks to her sociable nature, will be misses by everyone.
Arrangements have been entrusted to Sherwood's Funeral Home and Life Tribute Center (506-839-2156) 18 Scovil Road, Norton, NB. A Graveside Service will be held on Friday, September 30, 2022, at 11:00 AM, from Riverbank Cemetery in Riverbank, NB. Following the Interment, a reception will be held at Norton Village Hall (10 Municipal St, Norton, NB E5T 0C8).
Donations in memory of Joyce may be made to the Kiwanis Nursing Home, the Sussex Sharing Club, or a charity of the donor's choice. Personal condolences to the family and memorial donations may be made through: www.sherwoodsfuneralhome.com