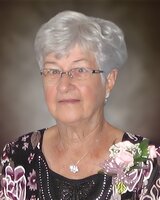 Doris Evelyn McGinnis
It is with great sadness that the family of Doris Evelyn McGinnis announce her passing, which occurred on Monday, August 15, 2022, surrounded by her loving family, at the Sussex Health Centre, Sussex, NB. Born in Hammondvale, NB, on August 12, 1925, she was the daughter of the late Lawrence and Bernice (MacDonald) Brown.
Doris is survived by her daughters: Brenda Wilkins (Wayne) of Sussex Corner, NB, Connie McGinnis-Hayes of Southfield, NB and Marlene McGinnis (Rene Allard) of Calgary, AB; sons: Maurice McGinnis (Kelle) of Southfield, NB, Francis McGinnis (Georgie) of Sussex, NB and Carl McGinnis (Patti-Jo Adair) of Picadilly, NB; grandchildren: Tracey (Karl), Crista, Lisa (Tommy), Scott (Adrianne), Ashley, Caleb, Mark (Cate), Cory, Brad (Tasha), Darren (Heather), Bret (Amanda) and Carter (Samantha); sister Florence Enright (Lorne); brother Maurice Brown (Teresa); sisters-in-law: Beatrice "Beatty" McGinnis and Catherine McGinnis; as well as many great grandchildren, nieces and nephews.
In addition to her parents, Doris was predeceased by her loving husband Gerald McGinnis; son-in-law Danny Hayes; sisters: Audrey Sands, Phyllis Gallant, Helen Gallant and Theresa Brown; brothers: Eldon Brown and Edward Brown.
Arrangements have been entrusted to Sherwood's Funeral Home and Life Tribute Center (506-839-2156) 18 Scovil Road, Norton, NB. Visitation will be held on Wednesday, August 17, 2022, from 2-4 and 6-8PM from Sherwood's Funeral Home. The Funeral Mass will take place on Thursday, August 18, 2022, at 2:00 PM from Sacred Heart Catholic Church, Norton, NB. Interment will take place at Sacred Heart Cemetery, Norton, NB.
Donations in memory of Doris may be made to the Sacred Heart Cemetery or to a charity of the donor's choice. Personal condolences to the family and memorial donations may be made through: www.sherwoodsfuneralhome.com