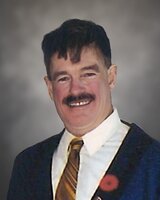 Lawrence Bryant Nodwell
It is with great sadness that the family of Lawrence Bryant Nodwell announce his passing which occurred on Friday, July 29, 2022 at the Sussex Health Centre, Sussex, NB. Born in Collina, NB, on July 8, 1947, he was the son of the late Everett and Mildred (Dibblee) Nodwell.
Lawrence is survived by his loving wife, Phyllis Nodwell (Reid); daughters: Crystal Nodwell (Ronald) of Sussex, NB, Lisa Nodwell of Oromocto, NB, Angela Nodwell-Beek (Jody) of Doaktown, NB and Bridget Nodwell (Quenten) of Redmondville, NB; grandchildren: Nichole Nodwell (Murray), Alex Beek, Jack Haveman, Kylie Haveman, Kaydence Harper, Brookelyn Harper, Nessa Harper, Brock Harper, John Harper and Megan Mullin; sisters: Millie Cairns (Jimmy) of Lower Millstream, NB and Lois Gaunce (Dave) of Lower Millstream, NB; brothers: David Nodwell (Catherine) of Collina, NB and Jerry Nodwell of Plumweseep, NB; as well as many nieces and nephews. In addition to his parents, Lawrence was predeceased by his brothers Jimmy and Carl Nodwell.
Arrangements have been entrusted to Sherwood's Funeral Home (506-839-2156) 18 Scovil Road, Norton, NB. Visitation will take place on Wednesday, August 3, 2022 from 12:00 to 2:00 PM with the funeral service following at 2:00PM all from Collina Baptist Church, Collina, NB. Interment will take place at Midland Cemetery, Midland, NB.
Donations in memory of Lawrence may be made to the Sussex Extra Mural, Canadian Cancer Society, Midland Cemetery, Collina Baptist Church or to a charity of the donor's choice. Personal condolences to the family and donations may be made through: www.sherwoodsfuneralhome.com