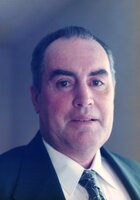 Arnold Larson Raven
It is with great sadness that the family of Arnold Larson Raven announce his passing which occurred on Wednesday, July 27, 2022, at the Sussex Health Centre, Sussex, NB. Born in Lower Millstream, NB, on August 21, 1941, he was a son of the late Peter and Nina (Alward) Raven.
Arnold is survived by his loving wife, Charlotte Raven (Cripps); sons: Dan (Sherri) Raven, Doug Raven, and Darrell (Lorna) Raven; grandchildren: Jessica, Brandon, Alex, Nick, Zachary, Madyson, and Mackenzie; siblings: Ernest Raven, Marion (John) McCready, Kenneth (Theresa) Raven, Leonard (Valerie) Raven, Robert (Valerie) Raven, Stanley Raven (Tracy Albert), Donald (Jackie) Raven, Patricia Travis, and Margaret Ravn; sister-in-law Cindy Urquhart; brothers-in-law: Stafford (Shirley) Cripps and Danny Cripps; uncle Bob Wilkins, who was truly like a brother to Arnold; special family friend, Bette "sister" Ellis; along with several nieces, nephews, and cousins.
In addition to his parents, Arnold was predeceased by his son, Anthony Raven; sisters-in-law: Sharon Raven, Cathy Raven, and Linda Raven; and brothers-in-law: Malcolm Cripps and Wayne Travis.
Arnold was a hard worker and wonderful family man. He was so proud of his family and beamed with pride when he was around his grandchildren. As a young teenager he spent his days in the woods, which became a lifelong career and passion. In his late teens, he learned how to farm while picking potatoes and tobacco in Ontario. His career led him back to the forestry industry, with Irving, and finally as the owner and operator of his own family business, Raven Enterprises.
Each summer, Arnold looked forward to his PEI trip with Charlotte, and spending time at the trailer by the bay. He was an avid golfer, and loved watching sports, especially his beloved Blue Jays. In his later years Arnold enjoyed going for breakfast at "JJ's" or "All Seasons", watching the trucks pull in and out of the mill, and watching the deer at night.
The family would like to thank the nurses and staff at the Saint John Regional Hospital, Sussex Health Center, and Extra Mural Care. They would also like to thank the home care workers who came to help Arnold and Charlotte – Abbey Snyder, Connie Green, and Terry Corbin. Thank you all so much for your kindness and compassion, which will never be forgotten.
Arrangements have been entrusted to Sherwood's Funeral Home (506-839-2156) at 18 Scovil Road, Norton, NB, where a public visitation will take place on Monday, August 1st, 2022, from 2:00 to 4:00 PM, and 6:00 to 8:00 PM. A funeral service will also take place from Sherwood's Funeral Home on Tuesday, August 2nd, 2022, at 11:00 AM, followed immediately by the interment at Riverbank Cemetery, Riverbank, NB, and a reception. The family prefers that a mask be worn by each visitor to the visitation and funeral service.
Donations in memory of Arnold may be made to Extra Mural – Sussex, the Lung Association (NB), the Kidney Foundation of Canada – NB, or to a charity of the donor's choice. Personal condolences to the family and donations may be made through: www.sherwoodsfuneralhome.com