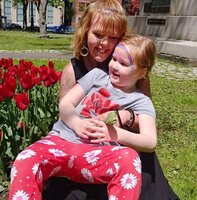 Kendra Leigh Jones
It is with great sadness that the family of Kendra Leigh Jones announces her unexpected passing which occurred July 8th, 2022. She was a daughter of the late Paul and Cheryl (Somerville) Jones.
Kendra is survived by her sisters: Natalie Jones (Tony) of Belleisle Creek, Jodi Jones (Wally) of Lakeside; brother Cody Jones (Kathi) of Jeffries Corner; step-sister Charlene McKay of Millstream, along with several aunts, uncles and cousins. May she rest in peace alongside her parents; Paul and Cheryl; grandparents; Ken and Shirley Somerville and Jean and Henry Jones.
Her legacy lives on through her children Jaxson, Kadeance, Sawyer and Lily. Her nieces and nephews Cassidy (Jacob), Carter, Ceara, Chase, Seth, Lily and Madison.
Kendra was a free spirit who was always passionate about music, her family and playing her guitar. She always had a smile on her face when surrounded by those she loved, and always made the best of things. She will always be a daughter, a sister, a mother, an aunt, and a beloved friend to many as she will be watching over us as we grow and learn to live our lives without her. Kendra will forever be remembered as a beautiful, strong, kind-hearted women. She will live on through her families' fond memories of her as well as in our hearts.
Arrangements have been entrusted to the care of Sherwood's Funeral Home and Life Tribute Center (506-839-2156) at 18 Scovil Road, Norton, NB and will be held privately. Interment will take place in Bayview Cemetery.
Donations in memory of Kendra may be made to a charity of the donor's choice. Personal condolences to the family and donations may be made through: SherwoodsFuneralHome.com