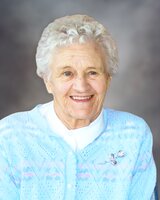 Betty McLaughlin
It is with great sadness that the family of Ellen Elizabeth "Betty" McLaughlin announce her passing, which occurred on Friday, April 22, 2022, at the Sussex Health Centre, Sussex, NB. Born in Saint John, NB, on March 19, 1927, she was the daughter of the late Thomas and Mary (Clain) McLaughlin.
Betty is survived by her sons: James (Tracy) McLaughlin of Norton, NB, Wade (Norma) McLaughlin of Ratter Corner, NB and Bernard (Lisa) McLaughlin of Moose Horn Creek, NB; seven grandchildren: Evan, Matthew, Anna, Warren, Kathleen, Holly and Ryan; great grandchildren Ava, Colter and Millie; sister Alice O'Connell; brother Gary McLaughlin; sister-in-law Annette; as well as many nieces and nephews. In addition to her parents, Betty was predeceased by her husband Warren; siblings: Francis, Walter, David, Theresa, Josephine, Annie, Thomas and Katherine; and great grandson Bryce.
Arrangements have been entrusted to Sherwood's Funeral Home and Life Tribute Center (506-839-2156) 18 Scovil Road, Norton, NB. The Funeral Mass will take place from Sacred Heart Catholic Church, Norton, NB, on Friday, April 29, 2022 at 2:00 PM. Interment will take place at Sacred Heart Cemetery, Norton, NB.
Donations in memory of Betty may be made to Sacred Heart Cemetery or to a charity of the donor's choice. Personal condolences to the family and memorial donations may be made through: www.sherwoodsfuneralhome.com