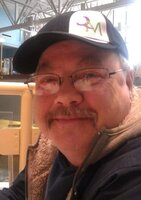 John David Wayne Watkins
It is with great sadness that the family of John David Wayne Watkins of Sussex, NB, announce his passing which occurred at the Saint John Regional Hospital on Monday, March 28, 2022. Born in Saint John, NB, on September 22, 1953, he was the son of the late Harold and Lorna (Hall) Watkins.
John loved the outdoors and spent a lot of time hunting and fishing, even tying his own flies for fly-fishing. He had a great time playing poker with his buddies. John would open his house to anyone who needed a place to stay. He was generous beyond words, even giving his final penny to anyone who needed it more. John was famous for his Boxing Day Breakfast which eventually had to move to bigger facilities. Each year he would supply the trout and the partridge so that everyone had plenty to eat. He loved his family with everything in him, and none more than the love of his life, Marie. John's heart was broken on February 14, 2021, when Marie passed away 48 years to the day of their first date.
John had several jobs over the years but was most recently a Commissionaire with PCS (Dennison). He was known by many names to his family, from Johnny, John-boy, Grampie, and just Dad, but without fail he will be greatly missed by everyone who knew him.
John is survived by his daughter: Kim Forgrave (Rick) of Sussex, NB; sons: Tony Watkins (Krista) of Wards Creek, NB and Jamie Watkins (Amy) of Knightville, NB; chosen children: Steve Ferron (Twyla), Gail Dyer, and John Voutour; grandchildren: Caija, Jasmine (Jamie), Joshua, Noah (Chardon), Tyrel (Samantha), Jakob, Landon, Alex, Phoenix, Emma, Nikita, Delaney and Lynora; great-grandchildren: Amellia, Patience, Charley, Harmony, Octavia, and Kensley; sisters: Vicki Raymond (Tony), Mary Sears, and Lori Horton (George); sister-in-law Rose Brighton (Ron McShane); nieces: Katie, Erin, Brenaugh, Kyra, Paula and Tina; nephews: Joey, Jeremy, Kenny; as well as many other extended family members. John will also be missed by his sweet dog, Bella.
In addition to his parents and Marie, John was predeceased by his father-in-law Alexander Brighton; mother-in-law Jean Brighton; and brothers-in-law, Reg Sears and Willis Brighton.
The family wishes to extend their appreciation to the fantastic staff at Crosswinds for their thoughtful support over the years.
Arrangements have been entrusted to Sherwood's Funeral Home and Life Tribute Center (506-839-2156) at 18 Scovil Road, Norton, NB. A celebration of John and Marie's life will be held on Saturday, April 9, 2022 at 6:30pm, at the Lion's Den in Sussex, NB. Donations in memory of John may be made to Crosswinds, the Cystic Fibrosis Society, Victoria Quilts Canada, the Autism Society of New Brunswick, or a charity of the donor's choice. Personal condolences to the family and donations may be made through: www.sherwoodsfuneralhome.com
"I hope the fish are biting, and every hand is a winner"