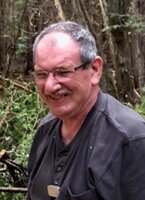 Richard Gordon Sprague
It is with great sadness that the family announces the passing of Richard Gordon Sprague, age 68 of Hatfield Point New Brunswick on Friday, March 11, 2022. Richard passed peacefully in his son's home, surrounded by his loved ones. Born in Sussex NB on November 21, 1953, he was the son of the late Gordon & Jean (Folkins) Sprague.
Richard is survived by his daughter Miranda Lirette and her husband Jacques; granddaughter Paige and grandson Logan of Irishtown NB; his son Shane and wife Kari Sprague; grandson Sylas of Fredericton NB; brother Lloyd and Susan (O'Brien) of Quispamsis NB; nephew Jamie & Reveen Sprague; niece Bonnie Rans; sister Bev (Sprague) and John Chestnut of Hatfield Point, NB; nieces: Rachel & Colin Gallant, Katelyn & Nick Doucet. In addition to his parents, Richard was predeceased by his sister Susan Sprague and nephew Jeffery Sprague.
Richard lived his life in Hatfield Point where he worked in the forestry business and on the land in the dairy farming sector. Many years had been spent toiling in the blueberry fields from Stewarton to St. Stephen. Richard loved to drive anything from a skidder, excavator, tractor to his prized Grand Marquis…he didn't require a Garmin just an Atlas in the back seat and a tank full of gas.
His laugh was vivacious and always brought a smile, he enjoyed a joke and reminiscing about days gone by. Richard was always there to lend a hand for relatives, friends, community members…it didn't matter what it was that needed to be done, he was always there, asking so little but giving so much. His joy in life was family- teasing, coaching, providing for and teaching. He enjoyed fishing for trout and the many Fundy Park adventures that went along with it.
So, one more road to travel on your journey, we hope you find the road paved with DQ ice cream, Tim Horton coffee shops and Deluxe Fish & chips restaurants along the way. A son, a father, a brother, a friend… You were loved beyond words and will be missed beyond measure. Not good-bye but "see you later".
Arrangements have been entrusted to Sherwood's Funeral Home and Life Tribute Center (506-839-2156) 18 Scovil Road, Norton, NB. A private family interment will take place at a later date. Donations in memory of Richard may be made to the Lung Cancer Association or to a charity of the donor's choice. Personal condolences to the family and memorial donations may be made through: www.sherwoodsfuneralhome.com