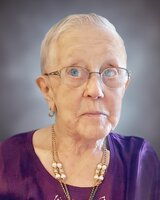 Millie Webster
It is with great sadness that the family of Mildred Greta "Millie" Webster announce her passing, which occurred on March 6, 2022 at Mill Cove Nursing Home, Mill Cove, NB. Born in Springfield, NB, on June 26, 1930, she was a daughter of the late Ralph and Greta (Knollin) Erb.
Millie is survived by her children: Marie Carpenter of Cambridge-Narrows, NB, Lois Belyea of Springfield, NB, Ron Webster (Amber) of McDonalds Point, NB, and Susan Webster (Preston MacDonald) of Belyeas Cove, NB; siblings: Bob Erb, Verna Sprague, and Helen Edwards (Joe); grandchildren: Anthony, Ed, Andrea, Patricia, Jeff, Mitchell, Meghan, Mallory, Roxanne, and Luke; 13 great-grandchildren; as well as many extended family members.
In addition to her parents, Millie was predeceased by her husband, Paul Webster; daughter, Valerie Green; grandson, Andrew Belyea; sons-in-law: Ken Carpenter, Lester Belyea, and Lloyd Green; sister, Hazel Allen; sister-in-law, Lois Erb; brothers-in-law: Everett Sprague and Keith Allen.
Millie was a hardworking lady and throughout her life worked as a babysitter, sewer, house cleaner, quilter, waitress, and blueberry raker. She also volunteered with the Red Cross and was a lifetime member of the UCW. She loved to take on projects around the house, even insulating the home, installing storm windows, and building her own cupboards.
The family would like to thank the staff at Mill Cove Nursing Home for their loving care, and Cindy Lawson for the many years of homecare that she provided to Millie.
Arrangements have been entrusted to Sherwood's Funeral Home and Life Tribute Centre (506-839-2156), 18 Scovil Road, Norton, NB, where a public visitation will be held on Saturday, March 12, 2022 from 1:00 to 3:30 PM, followed by a funeral service at 4:00 PM. An Interment will take place at Bayview Cemetery, Hatfield Point, NB, at a later date. Memorial donations in memory of Millie may be made to the Red Cross, Alzheimer's Society, or a charity of the donor's choice. Personal condolences to the family, and donations, may be made through: www.sherwoodsfuneralhome.com