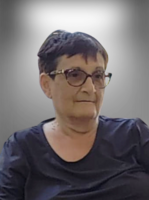 Mary Lou Connell
It is with heavy hearts that the family of Mary Lou (Gunter) Connell announce her passing on March 5th, 2022, after a courageous battle with cancer. Born in Whites Cove on July 31, 1949 she was a daughter of the late George and Neata (Urquhart) Gunter.
Mary Lou worked hard during her 33 years at Canada Post. She was an active member of the community, with many years serving in the Grand Washademoak Lioness Club and in more recent year helped with the Cambridge Narrows Flames. She enjoyed gardening, knitting and watching curling.
Mary Lou is survived by her loving husband Charlie of Cody's; two daughters: Patsy of Cody's, and Krista of Fredericton; her pride and joy, granddaughter Faith; and her walking companion, Buddy. She is also survived by siblings: Betty Dykeman of Riverview, Barb Lawson (Ken) of Fredericton, and John Gunter (Laureen) of Whites Cove; sisters-in-law: Etta Connell (Janice) of Riverview, and Charlotte Connell of Keswick Ridge; brother-in-law Gerry Connell (Amy) of Shannonville, Ontario; and many nieces and nephews. Mary Lou was predeceased by her brother-in-law Bert Dykeman; and Charlie's parents, Cedric and Mary Connell.
The family would like to thank the amazing nurses and doctors at the Saint John Regional Hospital Oncology Department and the Sussex Extra-Mural program.
Arrangements have been entrusted to Sherwood's Funeral Home (18 Scovil Road, Norton, NB), where a public visitation will take place on Wednesday, March 9, 2022, from 3:00 to 8:00 PM. A Celebration of Life will take place from Sherwood's Funeral Home on Thursday, March 10, at 2:00 PM. Memorial donations in memory of Mary Lou may be made to the charity of the donor's choice. Personal condolences to the family, and donations, may be made through: www.sherwoodsfuneralhome.com