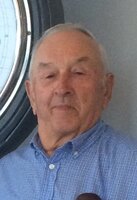 Ronald Earl "Ron" Williams
It is with great sadness that the family of Ronald Earl Williams announce his passing, which occurred on Friday, January 28, 2022, with his loving wife by his side, at the Saint John Regional Hospital, Saint John, NB. Born in Cody's, NB, on August 5, 1935, he was a son of the late Earl and Jessie (Thorne) Williams.
Ron worked for the department of transportation in the 60's but for the majority of his adult life he was a dairy farmer and a woodsman. He loved his family passionately and was happiest when he was surrounded by them. He was a quiet, reserved and caring man. When he would get that mischievous grin, you knew he was up to something and someone was going to be the victim of his humour. He loved to tease and had a nickname for everyone. He was a long-standing member of the United Pentecostal Church for fifty-nine years.
Ron is survived by his loving wife of 67 plus years, Jane Williams (Kincade) of Erb Settlement, NB; children: Brenda McLeod (David) of Sussex, NB, Bev Williams (Anne) of Erb Settlement, NB, Carol Mallory (Rocky) of Sussex Corner, NB, Pam Wilkins (Danny) of Portage Vale, NB, and Trina Comeau (Jeffrey) of Rusagonis, NB; grandchildren: Scott (Danielle), Jeff (Lauren), Benjamin (Melissa), Melissa (Aaron), Brett, Ted (Megan), Mikell, Blayne, Brandan (Roxanne), Jeremy, Amanda, Chris and Kaitlin (Dexter); brothers: Deryl Williams (Tressa) of Erb Settlement, NB and Cedric Williams (Patricia) of Sussex, NB; sisters: Barbara Johnson (Allison) of Mt. Middleton, NB and Sandra McKnight (Mac) of Apohaqui, NB; brother-in-law Leroy Armstrong; twenty-two great grandchildren; as well as many nieces and nephews. In addition to his parents, Ron was predeceased by his sister Anna Armstrong.
The family would like to extend a sincere thank you to the SICU at the Saint John Regional Hospital. Special thanks to Chelsea and Ruth for their kind and compassionate care given towards Ron.
Arrangements have been entrusted to Sherwood's Funeral Home and Life Tribute Center (506-839-2156) 18 Scovil Road, Norton, NB. The funeral service will be held on Saturday, June 11, 2022 at 11:00AM from Outreach Pentecostal Church, Hatfield Point, NB. A graveside service will take place at Riverbank Cemetery.
Donations in memory of Ron may be made to the IWK Children's Wish Foundation, CARMA Maritime Cat Rescue, Bobby's Hospice or to the charity of the donor's choice. Personal condolences to the family and memorial donations may be made through: www.sherwoodsfuneralhome.com