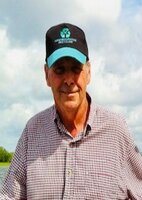 Richard Upshall
Richard Upshall died suddenly at the farm, doing what he loved on October 14th, 2021.
He always wanted to be a farmer and wisely married a girl who also loved the farm.
Richard was a self-taught renaissance man. Whether it was building a barn or house, plumbing, electrical or mechanical work, he did it all exceptionally well making him a go-to person in his community.
Richard worked hard every day and working with him was always fun because of his happy nature. He would patiently wait until you thought his idea was your own, and then quickly get on with the project. He made everything look easy which belied the fact that he was thinking three steps ahead.
A horrific stroke at 61 did not slow him down for very long. His recovery meant re-learning to walk, talk and read. His exceptional work ethic and sharp mind led him to discover new ways to independently run the farm, including operating a power saw to cut wood with one good arm.
He had no humility when it came to humour. He would do whatever it took to get a laugh, always with kindness and a twinkle in his eye. His "30 for 60" bids in Auction 45's were legendary as were his unique musical interpretations of all the classics like, "The King of Kensington", "Take the ribbons from my hair" and "It's time to get the cows in and start the milking chores".
Richard consistently chose to take the "high road"; he was honest, fair, and authentic in business and in life.
Richard was survived by his wife and best friend of 52 years, Catherine (Reicker), son Robert (Beth), daughters Jane (Bill) and Sarah (Jeff), granddaughter Ashley and grandsons Sidney and Leo. and a large extended family and many friends.
Whether you knew him as Richard, Uppie, Dick(ie), Richie Rich, or Rich-chard, he was one-of-a-kind and will be dearly missed.
A private celebration of life will be held at St. Peter's Anglican Church.
Donations in memory of Richard may be made to imfpa.org or St. Peter's Anglican Church. Condolences to the family and memorial donations may be made through SherwoodsFuneralHome.com.