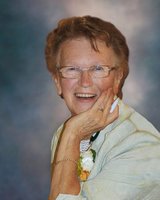 Patricia Hope Macumber
It is with a great sense of loss that the family of Patricia Hope Macumber of Hatfield Point, wife of Bart Macumber, announces her passing, which occurred on Sunday, May 16, 2021 at home with her loving family by her side. Born in Saint John on June 15, 1941, she was the daughter of the late Melbourne and Helen (Callaghan) Otis.
Patricia spent her days in service of her faith, family, and community. She was educated in Norton schools, and spent a year at Bethany Bible College in Yarmouth, Nova Scotia. After her marriage in 1966, they lived in Hampton, serving with the Atlantic Baptist Fellowship. They moved to Hatfield Point in 1972, and she and Bart spent 22 years as missionaries with the AWANA Youth Association. As a deacon's wife, Patricia was involved with many aspects of her church, and was well known for her hospitality to travelling evangelists, missionaries, family, friends, and neighbours. Anyone who graced their door was always welcomed. Her cooking was enjoyed at any church or community event, especially her cupcakes and pies. She was an amateur photographer, who preferred to be behind the camera instead of in front of it, giving away more photos than she kept. She had so many photos developed that she was on a first name basis with the Walmart Photo Centre.
Patricia lived life to the fullest at a pace that matched her desire to not waste a second of it. She loved her family deeply and had an interest in all their lives. She was always available to fill any need they had. We will miss her dearly, but we take great comfort in knowing she is with her personal Lord and Saviour.
In addition to her loving husband of 54 years, Patricia is survived by her children, Lori Ducey (Ian) of Wickham, Melody McDonald (Andrew) of Kars, and Brent Macumber (Kathleen) of Fredericton; grandchildren Ryan Ducey, Jennika Leubner (Tim), Robyn Gosman (Micaiah), Jakob Ducey, Miranda Matheson (Vance), Tyrel McDonald (Alexis), Silas McDonald, Austin McDonald (Madeline), Eli McDonald, Ella Macumber, Alex Macumber, Taylor Macumber, and Luke Macumber; 7 great grandchildren, Ezekiel, Everett, Otis, and Zebulun Matheson, Roman and Penelope Leubner, and Theodore Gosman; siblings Merle Gorveatte (Ken) of Browns Flat, Donald Otis (Linda) of Bocabec, Jock Otis (Carol) of Norton, and Peter Otis (Susan) of Grand Manan; and several nieces and nephews.
In addition to her parents, Patricia was predeceased by a daughter-in-law Shawna Macumber; granddaughter Lauren Eve Macumber; brothers Mel, Ronnie and Stuart Otis; and infant sister, Lillian Otis.
The family would like to sincerely thank the Extra Mural Nurses for their exceptional care for Mom.
Visitation will take place at Sherwood's Funeral Home, 18 Scovil Road, Norton, on Wednesday, May 19, 2021 from 3-7 PM, with Covid Protocols in place. The funeral service will be held by invitation only and can be viewed online by following the link provided on the funeral home website. Interment will take place in Bayview Cemetery, Hatfield Point. For those who wish, remembrances to the Hatfield Point Baptist Church Building Fund, or to any charity of the donor's choice would be appreciated by the family. www. sherwoodsfh.com.