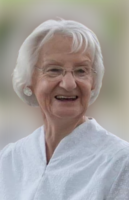 Nancy Josephine McDonald
It is with great sadness that the family of Nancy Josephine McDonald of McDonald's Point, NB announce her passing which occurred on Thursday, March 11, 2021 at Great Oaks Special Care Home, Wickham, NB. Born on January 15, 1931, in Saint John, NB, she was the oldest daughter of the late Roland and Elsie (MacDonald) Clark.
Nancy spent her life devoted to her God, family and church. She exhibited (Galatians 5:22) "love, joy, peace, patience, kindness, goodness, faithfulness, gentleness and self-control", seasoned with a wonderful sense of humor. She had the remarkable ability to see her family and others through "rose-coloured glasses," choosing only to see the good, always displaying a forgiving spirit.
Nancy graciously opened her home, not only to family and friends, but regularly entertained pastors and missionaries. She is most known for her infamous Garden Parties. No effort was ever too great to ensure everything was done to perfection.
While she will be greatly missed, her family is comforted knowing that their loss is Nancy's gain. Home at last...
Nancy is survived by her children: Allan McDonald and his wife Karen of Grand Manan, NB and Amber Webster and her husband Ron of McDonald's Point, NB; grandchildren: Charity, Liza (Chris), Sarah, Mitchell (Laura), Meghan (Ryan), and Mallory (Scott); great grandchildren: Lydia, Madelynn, Weston, Izabel, Cole, Alex, Blake, Wyatt, Owen, and Havana; brother Jim (Gloria) Clark; sisters: Jean Fowler, Esther (Murray) Davis, Elizabeth (Earl) Stockford and Rena (Gordon) Urquhart; as well as many nieces and nephews. In addition to her parents, Nancy was predeceased by her loving husband Blake McDonald; and sister Ina Sinclair.
The family would like to express a sincere thank you to the staff of Great Oaks Special Care Home for their kindness and compassion shown towards Nancy over the years. We will be eternally grateful for the care you have given.
Arrangements have been entrusted to Sherwood's Funeral Home and Life Tribute Centre (506-839-2156), 18 Scovil Road, Norton, NB. Due to Covid-19 restrictions, a family visitation and service will be held. Interment will take place at McDonald's Point Cemetery. Personal condolences to the family may be made through: www.sherwoodsfuneralhome.com