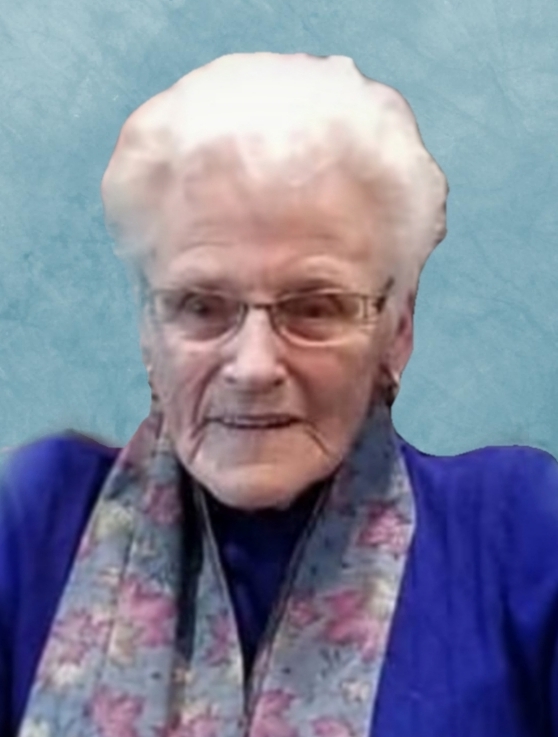 Clara Margaret Gray
It is with great sadness that the family of Clara Margaret Gray at 93 years of age announce her passing which occurred on Tuesday, February 23, 2021 at the Dr. Everett Chalmers Hospital, Fredericton, NB. Born on February 21, 1928, in Sussex, NB, she was the daughter of the late Norman and Emma (Copp) Cunningham.
Clara married her loving husband Aubrey Gray in 1946 and together they had three children: Norman Gray (Sharon), Helen Barton (Carl) and Emma Jean Gray. They enjoyed life on a farm in Belleisle Creek, NB for many years. In 1952 they began studying the Bible and became Jehovah's Witnesses, which greatly enriched their lives, giving them a hope for the future. Their family grew to include six grandchildren: Andrew Barton, Corey Barton (Erica), Lindsay Harnish (Gregory), Darin Gray (Carole), Robin Gray (Brandy) and Megin Hummelle (Chris); ten great grandchildren; as well as many nieces and nephews. In 2008 Clara moved to Minto, NB to live with her daughter Helen and son in law Carl, who cared for her for the remainder of her life. Clara will be greatly missed by her family and her many friends.
In addition to her parents, Clara was predeceased by her loving husband of 62 years, Aubrey; twin brother Clarence; and brother John. She is survived by her brother Norman Cunningham.
Clara was known by many titles throughout her 93 years, daughter, wife, mom, grammie, nanny and GG and she enjoyed each new role as it came along. Clara lived a full life enjoying gardening, quilting, knitting and most of all her volunteer Bible education work. She found great comfort in the scriptures and shared her hope for the future with all who would listen. She will be missed for her great sense of humor and her love for family and friends.
Arrangements have been entrusted to Sherwood's Funeral Home and Life Tribute Center (506-839-2156) 18 Scovil Road, Norton, NB. A celebration of Clara's life will be held by the family virtually on Saturday, February 27th, 2021 at 2:30pm, please contact a family member for login details. Personal condolences to the family and donations may be made through: www.sherwoodsfuneralhome.com