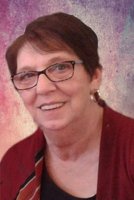 Marie June Watkins
It is with great sadness that the family of Marie June Watkins of Sussex, NB, announce her passing which occurred at her home on Monday, February 15, 2021. Born in Sussex, NB, on April 22, 1956, she was the daughter of the late Alex and Jean (Inkpen) Brighton.
To Marie, family was everything, she was "Mom" to many people over the years. When you did not have family or needed that champion, she became yours forever. The house was, as someone said, like "the island of misfit toys" to be forever loved. Marie was an amazing wife, daughter, sister, grandmother, aunt, GiGi and friend who will be missed by all those who can say they had the honour of knowing her or were loved by her.
Marie had several jobs over the years but found a career when she started at Crosswinds which she loved so much. She was crafty and a very talented artist but most of all, Marie was fierce. Marie fought cancer courageously for 6 years and fought it every inch of the way. She was a beacon of hope and inspiration to others and to the families of patients with cancer but most of all, to her own family and friends.
Marie is survived by her loving husband of 47 years, John Watkins; daughter: Kim Forgrave (Rick) of Sussex, NB; sons: Tony Watkins (Krista) of Wards Creek, NB and Jamie Watkins (Amy) of Knightville, NB; chosen children: Steve Ferron (Twyla) and Gail Dyer; grandchildren: Caija, Jasmine, Joshua, Noah, Tyrel, Jakob, Landon, Alex, Phoenix, Nikita, Emma, Delaney and Lynora; great granddaughters: Amelia, Patience, Charley, Harmony and Octavia; sister Rose Brighton (Ron McShane); sisters-in-law: Vicki Raymond (Tony) of Searsville, NB, Mary Sears of Apohaqui, NB and Lori Horton (George) of BC; nieces: Katie, Erin, Brenaugh, Kyra, Paula and Tina; nephews: Joey, Jeremy, Kenny; as well as many great nieces and great nephews. In addition to her parents, Marie was predeceased by her brother Willis Brighton; father-in-law Harold Watkins and mother-in-law Lorna Watkins; and brother-in-law Reg Sears.
The family would like to thank the amazing nurses and staff at Extra Mural, Sussex IV Day Clinic, the Oncology Department of Saint John Regional Hospital and Kelly Dunfield, NP. The family also wants to extend a sincere thank you to the wonderful staff at Crosswinds including Wanda Steeves, for the outstanding and truly wonderful love and support they have given to Marie and her family since she began working there. You are all angels and we will never have the words to express our gratitude and feelings of love for each and every one of you.
Arrangements have been entrusted to Sherwood's Funeral Home and Life Tribute Center (506-839-2156) at 18 Scovil Road, Norton, NB and will be held privately. A celebration of Marie's life will be held at a later date. Donations in memory of Marie may be made to Crosswinds or to the charity of the donor's choice. Personal condolences to the family and donations may be made through: www.sherwoodsfuneralhome.com