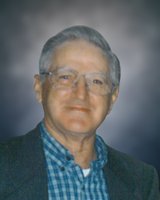 Paul Byrne
It is with much sadness that the family of Paul Thomas Byrne announces his passing which occurred on Friday, January 29, at the Kiwanis Nursing Home, Sussex. Paul was born on November 6, 1931 to the late Tom and Mary (McGinnis) Byrne, and lived an honest and hardworking life on the family farm on the Byrne Road, Moosehorn Creek, NB.
He is survived by his wife of 52 years, Patricia (Cogger) Byrne; son Kevin (Trish) Byrne; daughters, Mary (Luc) Desjardins and Teresa Byrne (Laurie Beaman); brother Maurice (Carol) Byrne; and sister Angela (Byrne) Monahan. He had two grandchildren that he dearly loved, Ella Byrne and Noah Desjardins. He was also blessed with very special nephews: Shawn and Lou Monahan and Maurice John Byrne; and special nieces: Meagan Byrne, Monica Byrne, Lisa Thorne, Lauren Peters and Ellen Hughes; as well as many other nieces and nephews. In addition to his parents, Paul was predeceased by his infant son Joseph Patrick Byrne; his brother-in-law George Monahan; and his brother Fred (Carolus) Byrne.
Paul had many hobbies. He loved reading, genealogy, sports and had many wonderful years of bowling with the best of friends. Music was a big part of his life and he played the fiddle, guitar, piano and harmonica.
Paul was proud to grow up, work and raise his family on the family farm. He enjoyed all visitors, especially relatives who came from near and far. He was a great historian and storyteller, but his two most favourite things were to tease and to talk.
A heartfelt thanks to Ginger Leavitt who was irreplaceable in the home care and friendship to Paul as well as to his family. Paul's family would also like to extend many thanks to the wonderful care and special attention he received at Kiwanis Nursing Home.
"Paul, Dad, Uncle Paul, Grampy; you will be dearly missed by your family, many relatives and friends… Take it easy, Dad."
Arrangements have been entrusted to Sherwood's Funeral Home and Life Tribute Centre (506-839-2156), 18 Scovil Road, Norton, NB. Due to Covid-19 restrictions, a private Mass of Christian burial will take place at Sacred Heart Catholic Church, Norton, NB. Interment will take place in the spring at Sacred Heart Cemetery, Norton.
Donations in memory of Paul may be made to the Kiwanis Nursing Home, Sacred Heart Cemetery, Alzheimer's Society or to the charity of the donor's choice. Personal condolences to the family, and memorial donations, may be made through: www.sherwoodsfuneralhome.com.