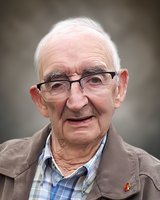 Ken Newell
It is with broken hearts that the family of Kenneth Owen Newell, formerly of Springfield, announces his passing which occurred on Thursday, January 28, 2021 at Ridgewood Veterans Wing, Saint John, NB. Born in Somerset, NS, on October 5 1921, he was the son of the late Ernest and Leta (Filmore) Newell.
Ken is survived by his son Terry (Carolyn) Newell; daughters: Joyce (Vernon) Munro and Heather (Glenn) Totton; sons-in-law: Norman Munro and Michael Bailey; eleven grandchildren; fourteen great grandchildren; as well as many nieces, nephews and friends. In addition to his parents, Ken was predeceased by his loving wife Jean (Turnbull) Newell; daughters: Brenda Munro and Linda Bailey; and sister Pauline Berry.
Ken was a D-Day Veteran of the Second World War, having served four years in the 3rd Anti-tank regiment 52nd Battery. He was a lifetime member of the Royal Canadian Legion Branch #76, Norton, a founding member of Kings Kirk United Church, both of which he held various positions in. He was also a member of the Belleisle Seniors and the NB Retired Teachers Association.
Ken taught industrial arts for 25 years at Belleisle Regional High School and Stanley High School. Upon retirement, he worked at construction for many years. He loved to travel and spend time with family and friends and was always willing to lend a helping hand.
Arrangements have been entrusted to Sherwood's Funeral Home and Life Tribute Centre (506-839-2156), 18 Scovil Road, Norton, NB. Due to Covid-19 restrictions, private services will be held. A public celebration of Ken's life will be held in the spring at Midland Cemetery.
Memorial donations in memory of Ken may be made to the Ridgewood Veterans Wing, Kings Kirk United Church, Royal Canadian Legion Norton #76 – Poppy Trust fund or to the charity of the donor's choice. Personal condolences to the family and donations may be made through: www.sherwoodsfuneralhome.com